Come and experience the best of Guilin! Among Chinese, this scenic city in the southern China region of Guangxi is legendary for its natural beauty. And now, it is the third most popular tourist destination in China after Beijing and Xian. These Guilin tour packages below are well-designed based on our years of travel experience. Check it out and book now! We warmly invite you to enjoy an authentic Guilin holiday.
For this 2-day trip, hike through the Zhuang & Yao minority villages of Longji Rice Terraces area in Longsheng, Guilin.
During this 4-day biking tour, venture into Yangshuo countryside to enjoy the stunningly karst scenery and typical rurual scenes.
Take this one day join-in group tour from Guilin city to Longsheng; there alllows some hiking through spectacular Longji Rice Terraces area and ethnic villages of Zhuang & Yao minority.
An exceptional join-in bus tour allows you to enjoy the highlight of your trip in Guilin and marvel at the stunning landscape along the Li River.
Overview
Travel to Guilin and explore typical scenic spots in your preferred way. Our Classic Guilin Tours are classified into multi-day private tours and daily join-in tours. We would enable travelers to experience the very best Guilin has to offer in few days.
We are here to serve any travelers, from China domestic cities or other countries. Please find your starting point, and then get inspired.
Guilin is a convenient base to plan trips to the rest of China. Below tour packages are specially designed, with an extension from Guilin to other popular tourist cities or provinces.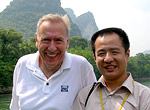 I would like to say that our tour was great! It was everything we hoped it would be and so much more. Your planning and tour guides were just the best. I can't thank you enough for everything you did. It was a trip of a lifetime.
---- Kathy