China Cycling Tours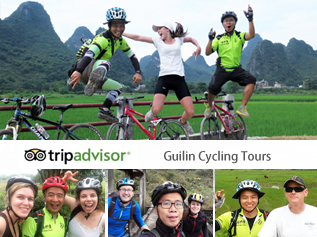 Few travelers know that Guilin has congenital cycling advantages among many cities in China, it satisfies your wanderlust of exploring the world with abandon. Start an adventure bicycle journey on multifarious trails and enjoy the myriad delights on the road. Guilin is worthy of a one or two weeks cycling program no matter you are familiar with mountain/road/leisure bikes. Guilinholiday (branch of Easytourchina) is a cycling journey planner in china and devotes ourselves in exploring more routes less traveled, introducing highlight adventures to the world. We cycle in Guilin, Yangshuo and around the Li River, also those less commercialized country areas of China.

Our company offers cycling related services including tour arranging, local high-end mountain bike DTOS, bike rental service, tour guide service and supporting vehicles, etc. English and French speaking tour leaders, travel maps and cycling top tips around Guilin and other cities in China are always upon your requests.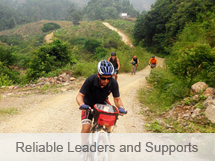 Skilled Local rider seldom cycles to Yangshuo as they know the peaceful places worth for a ride are hidden in the countryside all over the grand Guilin, the UNESCO landform, the biggest wetland, mysterious waterfalls found by local hikers and the isolated magnificent brooks and reservoirs, all makes a 3-15 days biking tour in Guilin unforgettable.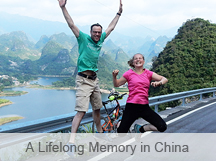 A one day leisure cycling visit into the unknown urban/rural areas of the city is a good choice for a weekend plan, have a day trip to places recommended by local cyclist. These biking programs are suitable for foreigners travelling/living/studying in Guilin, backpackers, company event organizers, etc. Arrange a diverse cycling activity for your families in China now!
Supports and Bicycles
A professional course charting to the next destination and a strong support makes your China cycling plan easier and secured.
Not interesting in joining groups?
Rent a bicycle and blaze your own trail.

Our Team
Robert
Experienced bicycle fans, he has travelled many places in China by folding bike. With a travel consultant background for many years, multilingual in English and Spanish, he offers you unique tips and itineraries of a long-distance cycling. Robert regards bicycles as friends, not only tools.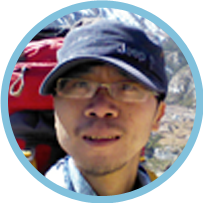 Mark
A Guilin countryside native, he has travelled over 20000KM acrossing half of China by mountain bike in 2014. With the backgroud of hiking alone around Annapurma in Nepal, he is also experienced in trekking tours. Mark regards bicyle as a magic friend as it brought him a new life and a perfect way to explore the world.

Charlie
Senior China travel manager, special biking trips, photo tours, cooking learning plans, tea tours, etc. is of no difficulty to Charlie, he is highly recommended by former travelers and the colleagues in the company.
Feedbacks
Comment by Ulrike, Australia, Tour date: April, 2014. (Original comment on TripAdvisors)
This adventure was part of our 8 day private tour of the Guangzi Province which started in Guilin where we picked up our brand new Giant mountain bikes with helmets. We hiked and cycled through the karst mountain ranges and many small picturesque villages to Yangshuo. Thanks to Easy Tour China we booked our' bike hike' adventure with ease and the cost too was easy on the pocket!

Reply by
Robert
,Guilinholiday
Thanks so much for your comment! We are so honored to introduce those less travelled places for more riders. We do believe that cycling is the best way to explore the world and welcome back to the heaven-alike Guilin anytime.