13-day Southwest China Tibetan Culture Bike Tour Plus TLG Trekking
Tour Overview
This 13-day tour starts at the Tibetan area in Yunnan province from Shangri-la (Diqing) and ends at Dali, focusing on the world famous places worth to visit in Southwest of China. The tour includes the Tibetan culture visit at Shangri-la, amazing highway trekking on Tiger Leaping Gorge, biking into the most beautiful part that connecting Yunnan province and Tibet. White water rice fields, countryside of Eyuan, brooks and waterfalls at the gorge, the symbol snow mountains Yulong and Haba, Liiang ancient town, Erhai Lake and ancient cities can be expected. A proper altitude less than 4000 meters assures you a China cycling tour into a picturesque world.
Duration: 13 Days
Tour Code: TT-037-R
Inquire Now
Tour Itinerary
Day 1 Arriving Shangri-La (Diqing) (D)
You will need to arrange the arrival flight on your own to Shangri-la, the best transit airport to Shangri-La is Kunming, it take about only 1 hour flying from Kunming to Shangri-La.
Day 2 Shangri-La Tibetan Temple Travel (B,L,D)
Warming up cycling and Tibetan culture visit to Ganden Sumtseling Monastery - a Tibetan lama temple and then cycle on the famous Napahai grassland and lake, we have one day cycling here as this is the best place to understand Tibetan culture during the whole trip, also the best place for buffering on the highland.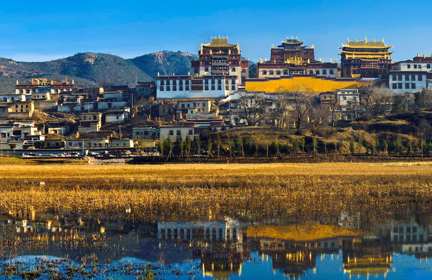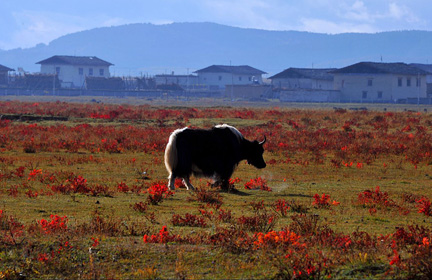 Day 3 Shangri-La Cycling to Baishuitai (the white water terraces) (B,L,D) 54KM

GPS Data from outside Shangri-la to Baishuitai
A private car will transfer us outside the city for about 45KM to the bottom of the mountain, then we start our cycling from climbing up and down through beautiful valleys and awesome slopes until reaching the famed scenic spot at Baishuitai (means clean water on terraces), we will see yaks there and enjoy the hospitality of Tibetans.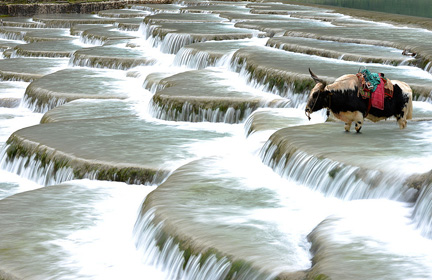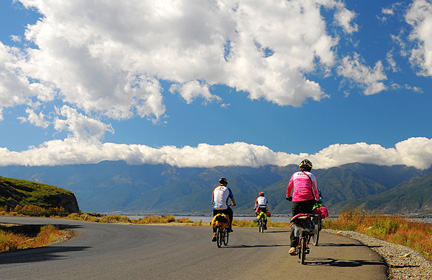 Day 4 Baishuitai Biking to Middle Tiger Leaping Gorge (B,L,D) 71KM

GPS Data from outside Baishuitai to Middle Tiger Leaping Gorge
Shangri-la country is the highest place during our trip, if you feel not so comfortable for the first days, don't worry as we are cycling from a highland into less difficult areas. We arrived the well-known Tina's guesthouse today for rest. Our balcony will face splendid scenery of the gorge, valley and waterfall of Jinshajiang River.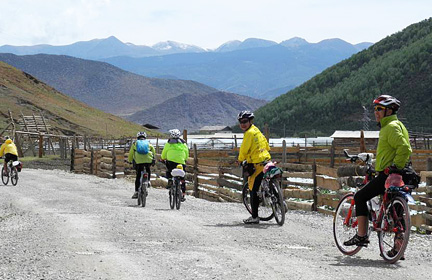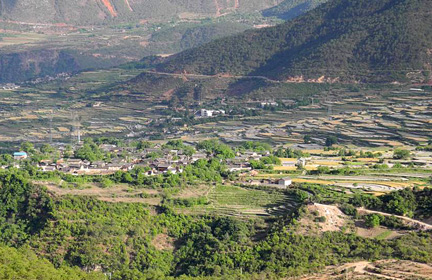 Day 5 Tiger Leaping Gorge Trekking (B,L,D)
Today we leave our bicycles and start one of the highlights of this tour, the Tiger Leaping Gorge trekking! We will get down from the cliffs first near Tina's down to the river bank of Jinshajiang River (means the golden sand river in Chinese), we have a vertical climbing down and trekking with iron bars on the precipice until seeing the turbulent yellow water of the River, it is officially regarded as the middle TLG there.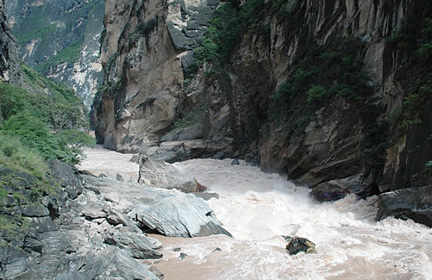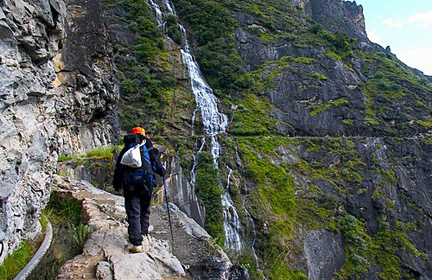 We finish the middle gorge trekking in the morning then back to Tina's for lunch, then we start our trekking up to the highway of Tiger Leaping Gorge. It will not so easy especially when it rains, as the sand, mud and rocks on the mountain are loose, we trek up up up to the steep mountain by trails, the Yulong mountain is on our left side. We finally arrive Halfway guesthouse in late afternoon, a picture of the sunset and golden Yulong Snow Mountain will be our best reward today.
Day 6 Tiger Leaping Gorge Trekking and Half Day Rest (B,L,D)
Today's trekking is even more difficult than the first day, the road become narrower, we will get down from the famous 28 bends of Tiger Leaping Gorge today, when we arrive the Naxi Family, we will get close to the finish point of the trekking.
There will be some local farmer trekking with us occasionally, aiming to sell some more expensive soda drinks, a shopping with them is regarded as a thank you to them as they are not only helping us for supply on such dangerous place, the rubbishes on the way are picked by those people. What else you can expect for after trekking on such a beautiful place with such nice people?
We finish the Tiger Leaping Gorge Hiking in the afternoon and rest at Qiaotou village, a small but important town connecting Lijiang city and the gorge. We rest today as we are facing a difficult day tomorrow.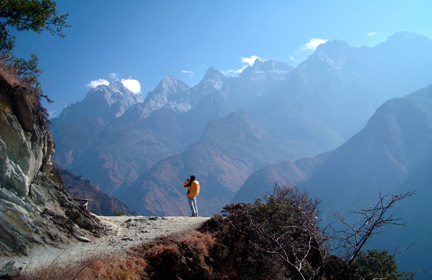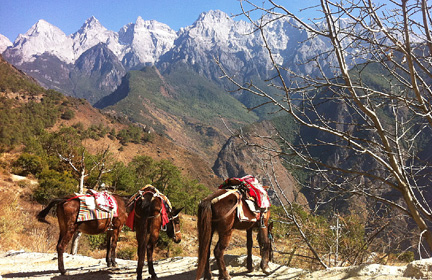 Day 7 Qiaotou Cycling to Lijiang (B,L,D) 80KM

GPS Data biking from Qiaotou village to Lijiang
We bike together outside Qiaotou village on paved concrete road, although it's the main road usually full of big travel buses coming from Lijiang going to see the upper Tiger Leaping Gorge (the easiest one from the three sections of TLG), we will not see too much cars until 10AM in the morning. There is a big climb after the first 31KM on flat; we have to conquer a 26KM climbing up first with from an altitude 1800M up to 2966M! The last 3 KM of the climb is extremely steep; keep your strength before that.
And then we cycle down with some undulating and arrive at Lijiang Ancient Town. We will have a half day exploring the famous town on our own today after our cycling.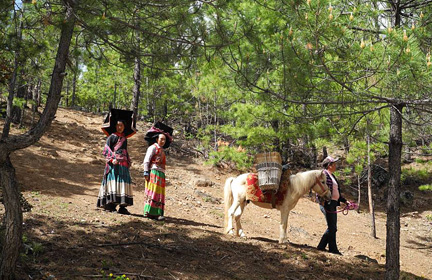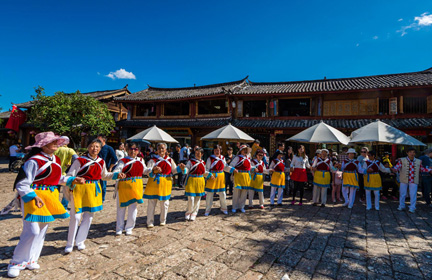 Day 8 Lijiang Biking to Heqing (B,L,D) 42KM

GPS Data Biking from Lijiang to Heqing
We will have an easy day to recover from the fatigued trekking on Tiger Leaping Gorge and the big cycling up yesterday.
Road condition today are mainly on flat and down, we cycle from Lijiang for 45KM to Heqing, expecting to arrive our hotel at noon, and have another half day for rest and own exploring of the town. We passed by some fields and lakes today, relaxing on the road.
Day 9
Heqing Cycling to Shaxi
(B,L,D) 99KM

GPS Data Biking from Heqing to Shaxi
Another challenge for this tour has to be done today, a 93KM cycling from Heqing to Shaxi, passing over the mountain areas, with an altitude from 2100M up to around 3200M! Three big climbing are still waiting for us after the super big climb of 20KM.
Please get ready for today's challenge and do not hesitate getting into the supporting van if when necessary. After the painful climbing, we will be rewarded with a super big down for around 30KM before the last distance on the flat. Do not finish the downhill so quick, make sure you will stop for the beautiful scenery and the 'Z' shape mountain roads; it's also safer for the bikes and yourselves.
Day 10
Shaxi Biking to Eryuan
(B,L,D) 55KM

GPS Data Biking from Shaxi to Eryuan
We start our beautiful day from a big climbing over the mountain. A climb from 2100M to 2800M in 18KM is our big challenge today. We can see a great reservoir when doing downhill, then we have a much easier cycling on through the rice fields of the famous Niujie (means the OX street), and finish the biking on flat for the last 18KM.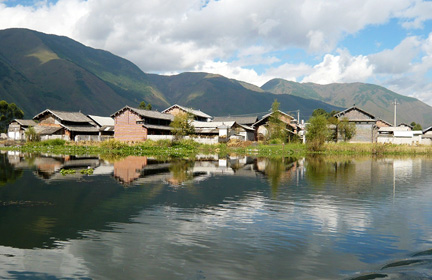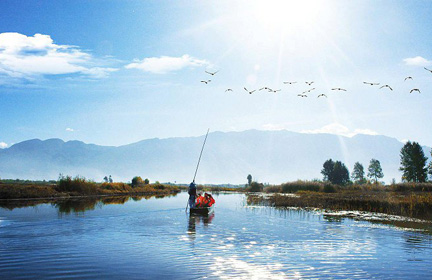 Day 11 Eryuan to Dali (B,L,D) 75KM

Eryuan
GPS Data Biking from Eryuan to Dali
We will have an easy cycling for the last day of this trip to Dali ancient city, the cycling along the Erhai Lake is very popular at Dali, we will avoid the busy national road and cycle along the peaceful Erhai Lake until arriving historical town of Dali.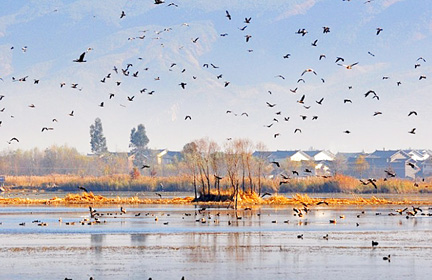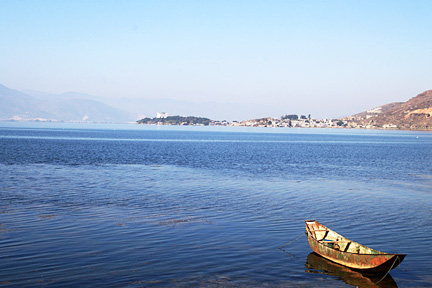 Day 12 Dali Overnight Train Back to Kunming (B,L)
We have to say goodbye to our bike leader and supporting can driver today after lunch, we will have a whole day free day at Dali, you can walk around the ancient city or rental a bike on your own to explore the villages nearby or to do a trekking on the Cangshan mountain. We checkout from hotel before noon, but our train to Kunming leaves at night, so for the rest half of today, we can keep our baggage at hotel. A private van will drive us to the train station this afternoon. We stay overnight at the train and arrive in Kunming the next morning very early.
Day 13 Kunming Departure
The tour finishes after the train to Kunming, please book hotel or transfer service to the hotel or to the airport with us, don't forget to arrange your own flight back home.
Price Guide
Dates: Upon your requests
2016 price: USD2460 p.p (min. 3 people to start this tour) Single room supplyment at USD320 .
Included Services:
1. 11 nights' accommodation in comfortable hotels or guesthouses with twin share rooms, private bathrooms;
2. Transportation fee for the first cycling day outside Shangri-la. Transfer from Kunming train station to your hotel on the last day or to the airport.
3. Meals: all breakfasts, lunches and most dinners mentioned in the itinerary noted as B,L,or D;
4. Water and snacks whilst cycling;
5. Entrance fees for Lijiang Ancient Town and Tiger Leaping Gorge
6. Our cycling leader who can fix small bike problems;
7. Air-conditioned support vehicle & driver (minimum 2 vacation seats);
8. Quality well-maintained mountain bikes of 24/27 speed front suspension;
9. Bike tools, spare parts and a backup bike;
10. Overnight soft sleeper train ticket from Dali to Kunming

Not included
1. Arrival airport transfrerring at Shangri-la;
2. Hotel fee at Kunming on Day 13
3. International airfares and airfares to China and to Shangri-la;
4. Visas;
5. Insurance*;
6. Tips, gratuities, personal expenses;
7. Helmet or cycling gear (our bike pedals are standard and may not suit you).

*Please note that obtaining your own travel insurance is required in order to participate on this biking tour. It will need to include a minimum coverage of medical expenses with emergency evacuation, personal liability and accident insurance. Our biking leader will need to see a copy of your insurance at the group meeting on the first day. We reserve the right to refuse you if you do not carry such an insurance policy.