Exclusive Greenway Bike Tour to the Great Lingqu Canal of Guilin
Tour Overview
Two of the greatest projects in China, the Great Wall in the north is well known by the world and crowded with travellers, but the great Lingqu Cannal in the south is still keeping its original appearance only for less visits. In 2015, the goverment of Guilin finished the building of the greenway from Guilin to Xing'an which makes an perfect leisure and easy mountain bike cycling along the pristine area of the Lingqu Cannal expressing its beatiful and peaceful to the world. This tour is exclusive designed by our company and available for all-level cyclists.
Duration: 1 Days
Tour Code: TO-GL0108-CT
Inquire Now
Tour Itinerary
Tour Highlights: 1. Leisure-ride along the Lingqu Cannal on the greenway and countryroad to Xing'an 2. Swimming 3. Cycle under the motorway 4. Bike along the railway 5. visit Lingqu Cannal in Xing'an 6. Gathering grapes from local farmers (seasonal).
Group Type: Leisure mountain bike tour.
Difficulty: ★★☆☆☆ Between easy and medium, suitable for most of the travellers.
Total cycling distance: about 35KM
Tour duration: around 9 hours. (including driving out and back Guilin)
Tour available date: Every day upon requests.
Tour start and finish point: Guilin - Xing'an - Guilin
We take our bicycle out of Guilin with shuttle bus to Xing'an or private supporting van then start our bike tour on the half way from Guilin to Xing'an county, then cycle to Xing'an, after arrival and visits there, we will be transferred back to Guilin city in the same day.
Roads: Well paved concrete roads, narrow greenway by the riverside, countryside trails, rice filed trails, trekking with bicycle for very few part during this tour when passing through ricefields or road broken section. Roads are maily flat but with few steap undulation lasting about tens of meters.
Cycling GPS Data ( middle 20KM for refference only )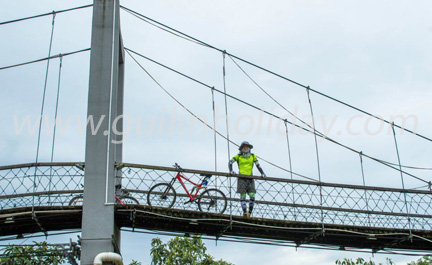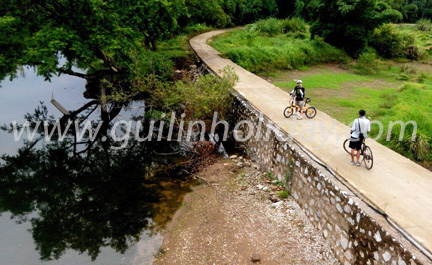 We need combine our bicycles with cars to finish this tour as Xing'an is about 60KM to the north of Guilin, we never waste our time on busy national road with annoying cars and we are always aiming to away from the dangerous traffic, pollution and the crowded cities.
In the morning, we will meet together at our designated address in Guilin and cycle to the north bus station (near the north railway station of Guilin) for a shuttle bus helping us transferring to Rongjiang county, where our tour will starts. If you are just a small group less than 4-5 people, you can book our supporting van for this transfer service outside the city in the morning and back to Guilin when tour finished.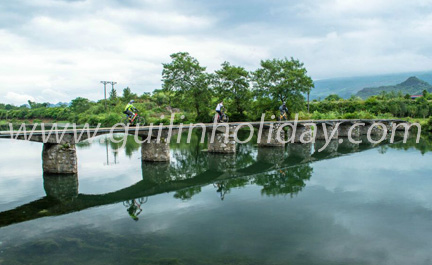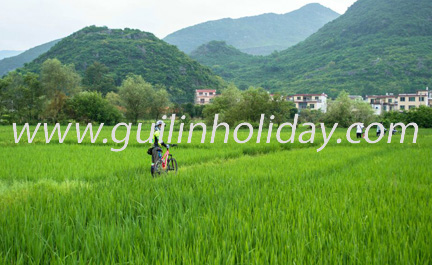 We start our first 8KM to the local village where we will have chance to gather the most delicious grapes in Guilin area (the grapes in Mao village are the ancestor of the famous grape named 'the hurricane grape'). If season permits. we will taste it!
Then we start our special designed countryside bike tour through the local farmers orchards into the green way of Xing'an. Passing through the peaceful dams, bridges, villages, riverbank, and everything you will never see in other places of Guilin, the whole area is so unique and people are much nice, leass commercialized, they are always willing to help.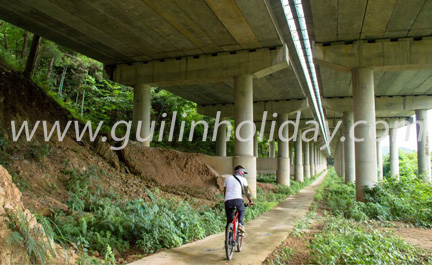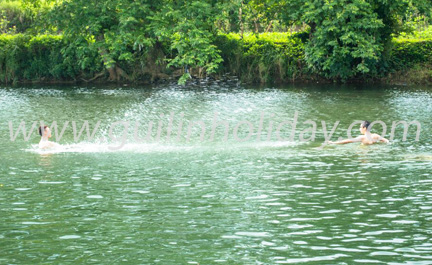 Although the cycle distance is not too much, the whole trip are full of fun and interesting things. You will never feel borded as we are facing roads of changes, we get to know the mountain bike riding is such an fun easily from this tour as we have chances to bike under the motor way, so close to the rail way, accompanied by the Lingqu Canal, rivers, and birds' singings. The tour is regarded as an perfect adventure suitable for every people who want to travel on bicycles. We will facing some difficulties on the way but we always feel satisfied after overcome them. The gate of the charming mountain bike experience is opened from a easy ride like this tour.
We cycle into Xing'an county and end the tour with a visit to see how the great Ling Canal works and how smart the Chinese ancestors were (ticket not included, paying cash if you want to visit it). We will have chances to take the local rice-noddle at Xing'an, it is much better than the ones sold in Guilin! (The rice noddle festival are always held in Xing'an every year).
We use our supporting van back or we find shuttle bus back Guilin with our bicycles at around 5PM.
Price Guide
Booking and payment: Online payment or cash. Booking should be at least one day prior to the tour departure date (more days earlier if departure is on weekends).
Tour Price:
One person: RMB950 (with shuttle bus out and back to Guilin)
2-3 persons: RMB650/p.p (with shuttle bus out and back to Guilin)
2-3 persons: RMB750/p.p (with our private supporting van out and back to Guilin )
Over 4 persons: RMB550/p.p (shuttle bus out and back to Guilin, the bicycles will be transffered by our supporting van)

Included Services:
1. An English-speaking cycling leader, with route guidance GPS map and simple bike repairing tools;
2. Well-maintained brand quality mountain bikes of 24/27 speed with front suspension;
3. Free helmets usage if you like;
4. One bottle of mineral water and simple local rice noodle lunch.
Not included:
1. International airfares and airfares to Guilin and exit Guilin;
2. Visas;
3. Insurance;
4. Tips, gratuities, personal expenses;
5. We don't offer rider gears for cycling (helmet is excepted).6. Entrance ticket to Lingqu Canal Park or any other paid attractions.