Yao Mountain lies in the east of Guilin, 12 km from the downtown. The highest peak is 903.3 meters above sea level and is the highest hill in Guilin.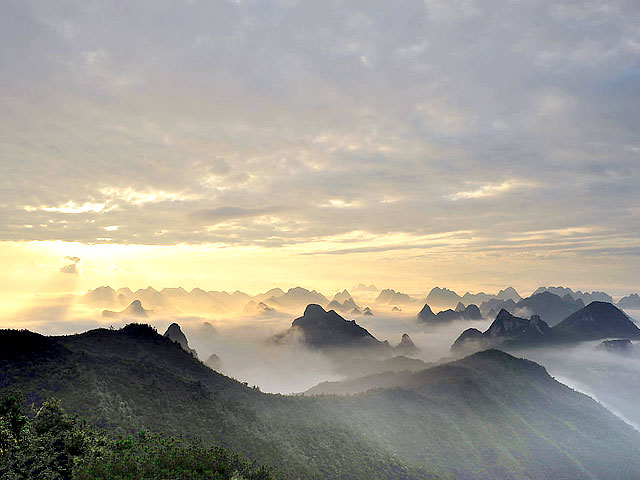 It received its name from a Yao emperor temple, which was built on the top of the mountain in the Tang dynasty. Each season offers a different view. In spring azalea flowers are everywhere, in summer the bamboo compete with each other for greenness and in autumn the red maples with falling leaves make the hill appear as though it's afire. The winter's snow on mountains is as transparent as pure crystal.
The 1,416.18 meter long cable car connects the top and the foot is completed in 1996. Visitors can easily get to the top of Yao Mountain by this cable car and get bird's-eye views of wonderful peaks and surrounds. The 1,000m sloping track has 18 curves, which enables tourists to travel through mysterious forest.
The toboggan slide, which is stimulating and interesting, was imported from WIGAND Toboggan Co. Germany. It is 1000m long with 18 turns sliding down from the half way of the mountain. You will have a beautiful view of rocks, flowers and brooks on each side when you down the mountain with the slide.
Admission fee: RMB 95 p/p (round-trip cable car included);
Opening hours: 09:00 - 16:00;

How to get there:
1. Public buses No. 24 will take you to the bus stop of Jingjiang Wangling (靖江王陵站) near the mountain. And then, walk about 1.4 km.
2. Take a taxi to Yao Mountain for about RMB 30 yuan.

Top Attractions in Guilin